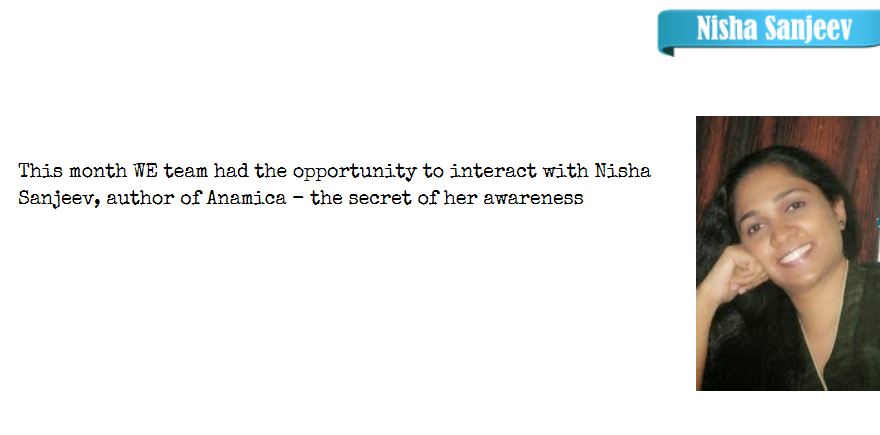 07 Apr

Writer's Ezine – Writing one word at a time…

My interview in Writer's Ezine
This month WE team had the opportunity to interact with Nisha Sanjeev, author of Anamica – the secret of her awareness.
Join us in this interview as WE tries to know the real her:
1. We would like to extend a warm welcome to you and thank you for sparing your time to be here with us. Can you take our readers through your journey till here?
I was raised and educated in Hyderabad. After completing my Masters in Communication and Journalism from Osmania University I began my career in 'Deccan Chronicle' in 1997. Subsequently I moved to Dubai after marriage and have had successful stints with leading publications including 'Gulf News' and career magazine 'Ambition'. Currently, I'm the Deputy Editor with 'Emirates24|7' – news portal.
Talking about Anamica when and how was it born?
I began writing poems in school. And I've always serialised poems, especially when faced with any issue. So when I decided to write a book, the first thought that came to mind was why not make my poetry collection into a story. That's how the idea of Anamica was first born.
How much of Anamica is you? Can it be called biographical in nature completely?
Anamica is an autobiographical novel. Several incidents mentioned are from my life, while some are exaggerated for effect, others are reproduced as is. Also there are fictional elements, too, to lend texture to my beliefs.
If today given a chance is there anything you would like to change in the book? Why?
No. I want to amend nothing at all because the work testimony to how much I've changed as a person and writer today. Anamica is what I was two years back. It will always remain a first reference to my journey.
The book has ended on a high, so is a sequel planned for it where it depicts her journey further?
Well, no such plans as of now. But cannot rule out when the bug bites. 
In the garb of fiction you have touched a very raw nerve in terms of lower middle class families and their dreams. Through your book what is the message that you would like to give you to both – young girls and their families?
In order to be selfless, we need to be selfish. There's no shame in this. It's important for women to live life for themselves, too, while they take care of their families. Because if women aren't happy with themselves what good can they be to others. Women's mental state is crucial to the stability of the family. Most women are in jobs they do not like for the sake of their families. I understand it's the need of the times. So be it. But what's heart-rending is that I know several women who wait for their kids to grow up to nurture their hobbies and do stuff that they love doing. Enrolling in a dance class or learning to play the keyboard need not be postponed until one is 50+. Majority of women are stressed out today because they take no 'ME' time. They live for their families and when their kids fly out to build their own nests they find themselves lonely, abandoned and without purpose. That's one of the main reasons for depression among women today. So it's essential for women to 'live' for themselves, too!
How does it feel today to hold your book in your hands? Any specific feedback on the book that you cherish the most?
I'm glad to the Divine for this book. The feedback I treasure the most is when Geoff Thompson – the Bafta award winning writer and author of over 40 books – rang me up to say that he had tears while reading Anamica.
Do we see you experimenting with genres in future? If yes which ones would you like to explore?
Well, I am basically a story-teller. So fiction will soon follow.
Any future projects you are currently working on?
Yep… beating them into shape.
Some words for your readers.
Never compromise your dreams for social status. Be yourself at all times. Love your uniqueness as you are all you have.
Thank you very much for your time!