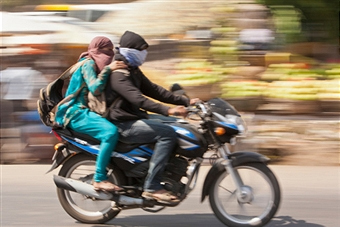 01 Feb

When I met my friend who eloped

Today I met Sangeeta – my classmate. After 11 years. I penned love poems for her in Organic Chemistry class. How we hated chemistry! We utilized that time to strengthen Sangeeta's chemistry with the boy she was seeing then.

Three years of graduate studies we enjoyed, scraping through subjects and managing just about the required attendance to sit the exams.

I learnt to prepare chole batture and phulkas giving my friend company as she trained to appease her lover. On numerous occasions I was even jealous of her. I had stood day dreaming on several evenings, when my animatedly happy friend, hugged me and hopped into the waiting bike and sat glued to Lolit as he zipped her away.

She didn't need a reason to hug me. She was at all times happy, and over me.

Actually, looking back now, I admit that I secretly admired her. The way she neatly assembled her French knot, her chic salwar suits, her eye-makeup, her sandals that matched her suits… I disliked my situation and even at times, yes, there were times when I hated my parents for not providing me the same.

Her joie de vivre was infectious. So much so, I once volunteered to stand in for her for a class assignment and was caught.

The last I saw her was on the zoology practical exam. As I tried displaying the nervous system of the frog in front of me, an over-excited Sangeeta was trying to communicate with me from across the lab, each time our professor walked past her.

She was done half-an-hour early on our penultimate day in college. We had one more practical to give. No sooner than I walked out of the hall, than she grabbed me, swayed me announcing that she was eloping with Lolit. "We are off to Bangalore…look I've take a few dresses and some jewellery, too. I'll call you once we settle… and she kissed me hard. I chided that my molars have fallen in my mouth!

Today, my jaws fell open.

As I sat in the car and the husband walked out to check the fresh catch being sold by the lake-side, I saw her – my friend Sangeeta cleaning fish beside a busy fishmonger. It took me a good 5 minutes to ensure she was indeed my old buddy before I pulled up the window and slid back, lost at how to react.

But…when the husband called out, "Adi, how much," my heart beat faster. I saw Sangeeta look up at the direction of his call.

"Adi, why don't you come and take a look…" and she craned her neck to check, while I attempted to hide.

In a minute, she was at the door. "Hey Adi, it's you…" She was all over me. The same lively girl, my lovely friend!

I still envy her!