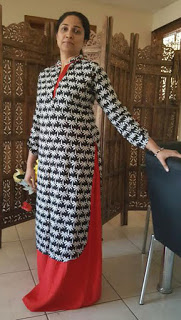 05 Aug

Tummy folds are okay

Prompt: Wishful thinking (Used in a sentence) 
The next time I hear a woman cry about how she puts on around her waist, I'm slapping myself tight. 
Yes. You read right. Myself!.

I was just like my typical ilk… 'Gosh! all I eat settles only on my waist!' 'It's next-to-impossible to shirk off the cellulite in the middle!' 'I've put-on you see, can't get into any of my trousers breathing…"

April 2016, rummaging through my wardrobe I found one of my favourite kurtis. A closed-neck, long-sleeved one, I had kept aside to be worn with red palazzo. But when I finally got my red bottom, my middle looked like a toad. I had put on about 5 kilos during last year, all of which I saw only on my tummy folds.

Determined to flatten it out, I set a deadline. June – 2 months from that morning – I'll cut my birthday cake in the black-n-red combo.

"Wishful thinking mama," cautioned my girl.

"Nope. This is confidence, darling. This is determination. Have you heard, where there is a will there is a way? I'll show you."

I did crunches and planks alternatively every morning. Walked 30 min 5 days a week. Cut down carbs and ate nothing solid post 6.30pm.

Week 1 – Nothing changed.

Week 2 – The scales weighed half-a-kg less and I had an adrenalin rush.

Week 3 – Was my time out. I was parked on the bench.

Week 4 – The scales discovered the lost half-kg .

Week 5 – I limped back to renewed routine.

With less than 25 days to go, I was desperate now. I kicked the weighing scale out of my sight. Concentrating only on the tummy, I gave up on sugar totally. And took to crunches like duck to water. Three times a day, 15 minutes each.

Two days before my birthday, I gingerly got into my black, full-sleeved beauty.

I jumped with joy. I had lost about 3 inches. The big, fat toad had but almost disappeared from my middle. Now, possibly a small tadpole whooshed around.

I rushed myself into the red palazzo. I felt so light. Took a selfie and Whatsapp-ed Sanjeev. Look, look, look…Your gorgeous wifey, I captioned it, too.

I was enjoying the dress rehearsal, planning my birthday celebration, when the phone buzzed.

"So you did manage to lose a few inches, yea," Sanjeev on line.

"I only need to decide, and it's done," I finished with a throaty laugh.

"Are you still in the dress?"

"Yea. I just don't feel like stepping out of it."

"Did you try doing the buttons?"

"Oh, All you see is only boobs. Didn't you notice the fit now, isn't it slightly better?"

"Try buttoning it up. A little stomach is okay, bust-gaping no."

I cut the line. Threw the phone.

That evening, the husband asked his side-kick, "Mama's birthday is here, beta. How about buying her an outfit?"

"Oh, yea, btw, what happened mama? Did you try your amazing, awesome, black-n-red birthday suit?"

"Yes, miss creep. I did. I lost a good 3 inches. But I am not wearing it yet. My dress. My birthday. My decision what to wear. Clear?"

"Why you angry?" And she whispers, "Papu! What? Not fitting?" 
I am with Team #CrimsonRush for the #BarAThon from 1st to 7th August 2016