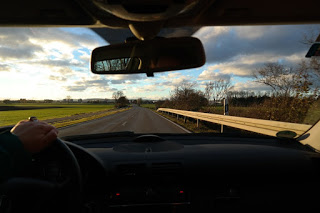 02 Aug

The cabbie drives on…

Prompt: Fragile Lives (Used in sentence)

 
Life is beautiful! I sincerely believe. There are plenty of awesome people, loving souls, provided you are open to attracting them into your life. The more you learn to trust the ways of the Universe and have faith in the Divine, the more wonderful people will walk into your space.
When my driver went on an emergency, I was stranded. Getting to work on time became a task. I had to re-adjust my morning schedule in order to "waste" those extra minutes waiting on the road to flag down a cab.
But lo! I hailed the same cab on three consecutive days. The cabbie was as surprised as me. On the fourth day, we exchanged numbers and now he drives me to and from work every single day. He waits patiently if my meetings run late, offers me soft drinks, switches off the meter if the traffic builds up, seeks my advice on gifts for his teenager… he's become like family. Just like my driver, who has gone to nurse his ailing wife, and calls me every week from Pakistan updating me of his situation and never once forgetting to ask me about Diya and conveying his regards to Sanjeev.
Recently, one day, I caught my effervescent and cheerful new cabbie friend, quiet. Almost sullen. On me pestering him, he opened up.
"Today, it's three years, madam. On the evening of May 14, 2013, I reached home. My wife and children were waiting for me. My old mother also came out to greet me. She can't walk, but she was standing beside me all the time, I was talking to men from the neighbourhood.
"It was 9pm, by the time the house was empty. Then I had a shower and had dinner and slept off. I was very tired madam. The previous night I had not slept, was packing and friends coming over. Then the four-hour drive from the airport. I somehow managed to unpack and give the toys to me youngest son. I told my daughters I will give them their gifts in the morning.
"Morning, my wife woke me up with tea. That's when I realised, I did not speak even a word to her. I didn't even know when she closed the kitchen and joined me at night. I asked her to sit down, but she said that she was very busy. She had a lot of work that day madam. Two goats were purchased to celebrate my home-coming. She had to oversee all the preparations. It's tradition in our place, madam, when we go home all our relatives – men, women and kids, come to greet us.
"It was a feast that day. Houseful. Like a wedding day. Most of the people had stayed back for dinner, too. I distributed all the chocolates and perfumes to the women and kids. Gave money to elders. Everyone left happy. My mother was proud. I could see it in her eyes, madam. At last, at about 10pm, I had some time to myself. I took out the Rolex watch, I bought for my wife, and hid it underneath the pillow. I couldn't wait to see her surprise, when I give her.
"I waited till 12, and she didn't come. So I went looking for her. Our youngest son had a fall, and she was attending to him. I said, "I'm waiting for you. Come fast," and I returned to our room.
"I fell asleep, madam. When I woke up, she was lying beside me. She was awake. I sat up. She didn't speak. I thought she was tired. So I lifted her up on my lap. I asked her to guess what gift I got her. But she was silent, madam. I just held her. After all, she had such a hectic day."
He felt silent at this point. And I let him be. After a few minutes, he continued…
"Then she said, she is uncomfortable. I asked her what problem she is having and she said she can't breathe. That's when I noticed madam, for the first time, her eyes were not bright. Her face was pale. I shouted. I called for my brother. My younger brother heard me and came in. I asked him to call our friend who has a car. Fast I urged him to run and fetch the vehicle.
"She went off madam. In my lap. In my hands, she went off. I didn't even speak to her in peace."
"Was she suffering from some…"
"Nothing madam," he replied before I could finish the question. "She was healthy. Very beautiful. Not like women here, madam. No make-up shake-up. So beautiful she was, natural beauty. She was excited about me going. She had so many plans. We are all balanced on a delicate breath. Fragile lives! As long as you can hold it in you are alive…"
God Bless him!
I am with Team #CrimsonRush for the #BarAThon from 1st to 7th August 2016