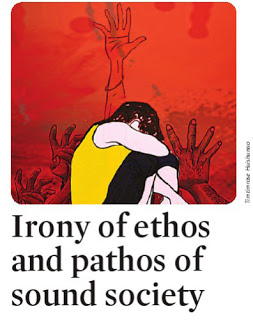 09 Apr

Talking sexual ethics with children

This appeared in TFW on April 9… 
Graphic Courtesy: The Financial World
When my primary school child quoted the word 'stranger-danger' from her life skills lesson, I was intrigued as to what was explained in school.
Catch them young, we say, for all developmental matters. Then why camouflage sexual assaults under stranger-danger? Times have changed. Do not take chocolates from uncles, and do not smile at mamas are fine. Do not allow any one touch you inappropriately! This, this sentence, is what parents and teachers need to explain to youngsters. This explanation creates awareness.
April is Sexual Assault Awareness Month!
All modes of transportation – running buses, moving cars, speeding bikes – are being utilised to make women of all ages in all nooks across the country 'aware' that India's conscience might have been stirred when the Nirbhaya flame simmered but that of the beasts are yet to be nudged.
What an irony that thepace of brutality continues unabated even as laws are being revised andcreated. By ensuring stringent punishments, quicker trials and widening the umbrella of assaults under unpardonable crimes, politicians are doing their job. The media is also doing their part by reporting, analysing and debating the same.
So who isn't doing their part right? None. All are doing their best. It's the culture that needs to change. With details of rape, sex and attacks blaring our living rooms at prime time, we can't afford to say our culture doesn't allow discussion of the same with our growing-up children. And with technology threatening to invade every inch space of our lives with each passing day, children's curiosity cannot be contained either. Therefore, it is time we revisited the list of 'taboo topics' in family and educational institutions, if we really care to snub sexual attacks.
By informing women about their rights or threatening men about the consequences of sexually attacking females, one is definitely spreading awareness, but that is akin to focussing on pedicure, ignoring foot care.
General knowledge quizzes in schools should include such incidents. Especially with pre-teens, for whom teachers' words are the Bible, classrooms are the best platform to reveal the real world to impressionable minds. As for teenagers, again a neutral environment of a school is the best place to quell their curiosity on sexual topics and answer their doubts.
And this should be taken forward by parents. Gone are the days when birds rubbed their beaks and flowers brushed against one another to let couples make love on screen. Let's not change channels or look into space when that happens. Sit along with your children and watch. That would be the beginning of getting comfortable to discussing sexual ethics with youngsters.
You never know, this small step could lead to the much-needed cultural change for a better tomorrow.