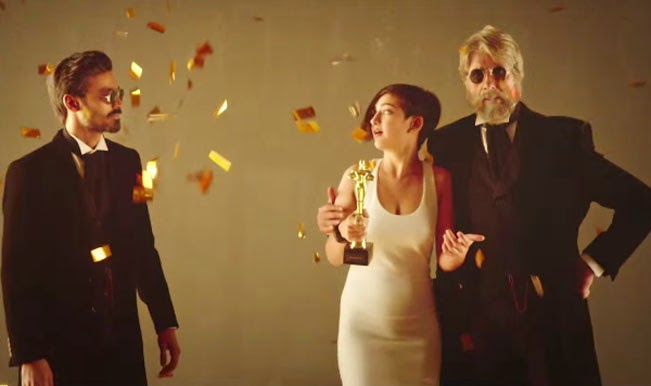 06 Feb

Shamitabh – will be celebrated

An intelligently crafted film – the ultimate ode to Big B! It's a critic's feast. A novel idea wrapped with filmdom obsession, which is technically sound, well-orchestrated and superbly enacted.
Well, the director-writer could have busted the ego of his protagonists quicker to save viewers from the drag in between. That could have possibly helped reviewers stretch the colour a little across the three stars, too. But what the heck? It's ego that the director is trying to quell. Does it die in one hack.

Raters seem lost on rungs to grade the movie. They aren't quite sure how to rate a creation that neither came with a promise to challenge the 100crore club nor falls under the starry Bolly-entertainer and yet flaunting the biggest star.

So unlike librarians who place a book under the 'general' category when they can't identify the genre, critics for want of an acceptable code, is all over the place.
And so 'Shamitabh' has become nothing but Balki's obsession with Amitabh Bachchan… why do we need to hear the baritone bass and Big B's history in Bollywood after all these decades… is the technology for real…over two-and-a-half hours of ego ride…to a debutante's attempt to act and who's that guy, ah! Danush, good…
E…shed it guys, let go. Give credit to the man who dares to be different in an industry that runs with the crowd and sings chorus. We are used to pulling up and sticking out those who perform differently.
In this case, it's the expectation of novelty from the creator of 'Paa' and 'Cheeni Kum' that's weighing the movie down.
At least give it to the actors. Danush's performance is electric, not to mention Bachchan at his superb best. Newcomer Akshara comes across as Papa's daughter. Hope the fraternity gives her the space to grow. Okay, I learnt that dialogue delivery is genetic, as well.
This is one movie that will be celebrated only after Amitabh Bachchan gives his last shot – which future generations will refer to when Big B is studied!