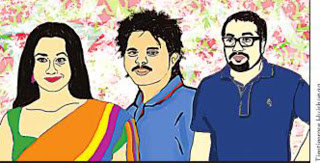 23 Apr

Rapists challenge India's conscience

[This appeared in The Financial World on April 23rd]

It is pathetic, heart-rending, sad, outrageous…indescribable. In less than four months after the gang-rape of the medical student in a moving bus that shocked the nation, now a little girl, tortured in confinement, has once again brought protestors out on the streets.

But, this time, the scale of protests isn't the same. The unprecedented agitation that broke out across the length and breadth of India in late-December and January is not repeated. At least not as of now. Social media users are sharing and voicing their feelings, but that contagious angst is missing. Some quote why only cases that happen in Delhi are highlighted, when rapes happen across the country almost daily. A few even posted that she is not the first 5-year-old to be tortured.

Sounds callous, indeed.
Graphic Courtesy: The Financial World
Laymen vent their frustration thus, when the system drags its feet. The Nirbhaya case suspects should have been done with by now. The case is often referred to as the one that 'stirred India's conscience'.
Well, our minds were stirred once prior to that. Remember the old social activist who resurrected Gandhi topi? Anna Hazare's agitation against corruption was also described as "arousing nation's conscience" then.
And here, now, we have policemen bribing the family of the little one to hush up!
Wonder whose conscience we referred to. The bureaucracy which doesn't pull up its act to keep countrymen safe? Sinister minds that have no fear of the law of land? Media channels that play up a case until they get another one to keep their TRP ticking? Laymen who react for some time and continue to live life as if nothing ever went wrong only to wake up at another point to blame authorities for not doing enough?
Who, who is to be blamed for the atrocious treatment of women in the country? Bureaucracy blames democratic shackles; Media blames survival rules; Laymen blame both the above.
Passing the buck with impunity happens only in a democracy. What use is democracy if citizens fear for their lives and that of their loved ones? It's time the government clamps down on sick minds. Capital punishment may sound barbarous, undemocratic and against human rights. But only this will instill the fear in beasts that is missing now.
The law should have zero-tolerance for rapists. The victim should serve as both the practical evidence and witness. Hear her out and act. Punish her torturers publicly. Cops and officials who tamper with the case illegally should be held accountable and punished immediately.
Meanwhile, each person, each household must act conscientiously. Treat sons and daughters equally. Educate little boys to respect girls. Include a topic on sexual ethics for high-school students. So at least the next-gen can say with pride that 'the nation's conscience has been stirred' and Indians are an awakened lot.