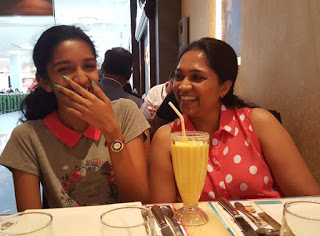 10 Jul

Of mango lassi & loo… how flipping cool!
This weekend was that time of the year, when the man of the house spent more time in the loo – than with us. Our baby was travelling solo – to spend her hols with grandparents. It didn't matter if this was her second solo trip. Her travel experience in no way seems to settle his nerves.
"So what will you do when she goes to university?"  I asked amused. "Will you resign or make loo your office?"
Well…Here's an excerpt of dialogues and events that ran up to this morning.
In March, our girl gave us an ultimatum. "I need a week exclusively with just the three of us, if I have to go to India."
"I need to check if I will get leave," I explained.
"I've already blocked my days," chipped in the dad.
"But we never discussed any such holiday," I wondered aloud.
"See, my Papa only thinks about me!"
After our trip to Thailand last week, I said, "6 days of social media detox was so amazing…"
"See, so you came for your detox…" I didn't give a clarification.
This Friday, she announced, "I need mango lassi before I go. Yoghurt in India is so yucky…
"No going anywhere, I have promised to visit…"
"Imagine 40 days me without good yoghurt and you are bothered about visiting friends…"
The dad cut-short, "We'll go today beta."
Mango lassi time… We are the best of buddies!
Saturday morning. Luggage packed, I sat to check her bag if she has stuffed in any impermissible items, what with her penchant for trivia, all the while reminding her of the key, passport, ticket copy, when I discovered her favourite bars of Galaxy chocolates and a new USB.
"From where did these come?"
"My Papa! See what a sweetheart he is! He not only bought me a new USB, but also copied all Talyor Swift and Ed Sheeran's songs. Even Friends and Teen Wolf. The whole folder from my desktop he's copied. And see how thoughtful, he bought 4 Galaxy bars. And you only think of me losing my passport and not finding my key. Negativity bias."
Sunday early morning. At last, it was time for check-in. As we waited to be attended to at the 'Minors unaccompanied' cabin at the airport, I noticed her glum. O! my baby, she's feeling the jitters!
I hugged her, attempting to pep her up. "You are a confident girl. So independent and brave, unlike me."
"Sush it, Mama. Why am I called a flipping minor!!"
"Because you are all of just 14."
"They need to have a separate section for teenagers. If those cranky kiddos are gonna sit beside me, I'm killing them…"
This morning, in office I waited with bated breath to hear my dad say she's landed fine.
"Hey! My baby. How was the flight? All okay…" I gushed.
"Guess what, we were put up in business class lounge. Flipping cool. There was Wifi. I watched the last episode of Flash. Can you believe it. Imagine travelling Economy with you."
"Good. At least, you've had the experience. Don't think you can blackmail your Papa into travelling Business Class henceforth…"
"Hello," she cut me short, "he's promised me, we'll make one family trip on Business Class."
"Of course, yes. My sweet Papa, he called me first."
Desperate to have the last laugh, I said, "I deliberately delayed, so he can hear you and at least now get out of the loo." 
 "So mean, Mamma. That's because he loves me and is always thinking only about me, unlike you!"
"Okay bye. Im calling from work. You enjoy."
"Hello, wait, Mama. When will you call me next?"
"Evening."
"Okay. You take care, Mamma. And don't worry about your office, Okay. Love you!"
O! my baby!!