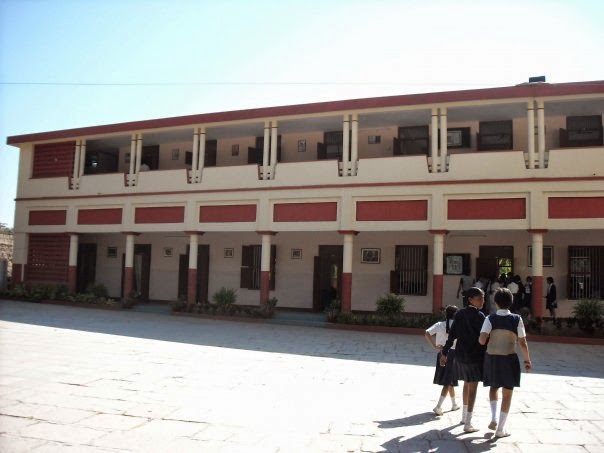 11 Sep

Nostalgia

Nostalgia. I've known this word since middle school or possibly high school. And I've used it numerous times since then. But it was only this morning that I felt it, while I sat keying into the mobile in hand and sipping cold tea, chatting with two of my school friends whom I discovered on FB after 25 years. Yes. After a quarter of a century!
St Ann's High School Bolarum [Pic Courtesy; FB Page]
Do not challenge me. This moment I can write a thesis on nostalgia.
It's a longing that weighs somewhere within, it's an ache which you enjoy and wish it lasts yet you want it to end because only then will it reach its zenith. It's something that makes you feel so young and at the same time makes you feel old. It makes you feel accomplished and blessed and yet you wish it had remained thus sans the accomplishments that now define you. It just makes you want to scream and jump up and tell the world, 'hey listen', yet all you do is bang at the keyboard and part your lips into a smile staring at the images on the screen, wanting to relate each minor detail of the face that is staring back at you to that minor version stored in your memory. It makes you wish if the person just walked out of the screen and hugged you and you wonder if you had even once hugged them when they were sitting beside you all those years ago. So what is it?
Nostalgia is unexplainable!
And when its classmates that make you nostalgic, it's an era that tugs at your heart strings.
One of them, Rashmi Dewan, whom I connected with this morning, was in the army for 15 years. Married with two beautiful kids, she has taken voluntary retirement as a Lt Col. It makes me proud writing about her.
The other, Priti Adeline, told me that my mom has grown old but my dad is the same, after checking a picture of them on my page. I was surprised she remembers. And she had more… "Do you remember Nisha, your mom had come to meet Ms Rosaliene when we were in the upstairs class…" I racked my brains trying to recollect her family.
Nostalgia is guilt-ridden!
Long after the chat, promising to organise a re-union and until then keeping in touch often, I felt buoyant. A couple of issues I had on mind for the day seemed frivolous. If I've come this far, I can cross these hurdles, too.
Thank you, to all my classmates of school and college – all those who I am in touch

 

with and those who I long to reunite with!
Today, I have a message for my girl – "Live your student life to the fullest. Rock it with your mates, have a blast every single day! So that decades later, when you run into one of your friends you shed tears of joy!"
PS: Have you met friends after decades? Did you weep or scream or turned your face away? Share your re-union stories here…