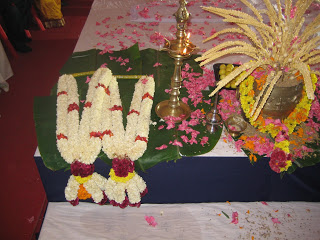 03 Aug

My plump pumpkin of a friend
The wedding venue at which I first met her…the yellow-saree clad feet at the far-end is what I first saw of her
The first time I saw her was from a distance in a huge hall teaming with people and deafening with noise and music. One of my cousins pointed a finger to a woman, and said, "There, do you see her? The one in a yellow saree who's laughing?" I craned my neck. Numerous shining and oily heads as well as droopy, broad and muscled shoulders and some derriere of various proportions blocked my view. "The one standing left to the bride?" I checked. "Second from right, with a baby in her arms," specified my cousin.
As I spotted her, I heard, "Yes, she's the one. She also lives in Dubai…" and I lost the rest of the sentence as I was taking in the sight of my target. A rotund body on which hung two arms that could take on a dozen wrestlers at a time. It also hosted a plump forever-laughing face embedded in the mass in the centre of her shoulders on which was a pair of owl eyes that seemed to smile at me from that distance. A petite nose that I assumed should have been somewhere above the large parted lips that never seemed to sit still just like the toddler that was forcibly perched on her side-seater – the culmination of her waist cum hips cum stomach.
Just then a young lad, about 6 years old, came crying calling her attention. She caressed the boy, rubbed his cheeks and whispered in his ears and the youngster stood beaming beside her, wrapping his tiny arms around her knees. A little later came two teenage girls and took away the boys and the woman was visibly freed as she got to animatedly talking to the newly-weds. "How much does that woman speak," I blurted when I saw her wave at my cousin and in minutes she was with us beaming full volt.
Then it was a round of firing. "Where do you stay, which area, which street, which building, where do you work, where's the office, which management, what timing, no. of kids, husband, maids, laundry, cooking… and I lost track as I was now massaging my arms.
Her each query physically landed on me. It started with a nudge, a tap, a slap, a pull and then she was hanging on my arm laughing at her own joke.
When the tornado rolled over, I told my cousin, "Hope she doesn't track me down in Dubai. Collecting personal details in the first minute of the first meeting…I can't stand such people."
That meeting was five years ago.
Every alternate Thursday since then she has been calling me and laughing on the phone. I endured her onslaught with monosyllabic replies initially. Slowly, I started taking a liking to her. I liked the way I heard her laugh. Four months and about 15 calls later, I decided to ring her up. And I heard her laugh as always. "Oh, at last, you've decided to include me in your friend's list." I was lost for a reply.
"You might have thought what a crazy pumpkin I am, right?" and she laughed. "Oh, I'm an insult to pumpkins even. That's got a better shape, yeah," and she laughed more. "You know Nisha, I love talking to working women."
"So every Thursday you ring up working women?"
"Ha, ha, ha. Three days a week. I have 30 working phone friends. I call 10 each on Thursday, Friday and Saturday."
 

"That's some dedication."
"This is my way of living my dream."
"When my dad passed away, I was just 18 years old. My mom wanted to get rid of her responsibilities so married me off the next year. And here, I am today. A mother of four kids…"
Shortly, I learnt she was my exact age and something tugged at my heart.
"What did you want to become?" I asked, ashamed that I knew nothing about her.
"I have doctors, teachers, engineers, pharmacists, an artist, a chef, two dancers, a social worker, nannies, two nurses, a radio jockey, a freelance photographer… name a career and I have them on my phone list. I could have been any of these. But I would have been only any one of these. And end up like all of you. You'll live pathetic lives, Nisha…"
What the heck! I was just beginning to like her and there she goes!
"…All of you just crib and complain of work pressure, politics, price hikes, future fears and when you are done with these you attack yourself of how your tummy is bulging out despite your fancy diets; how helpless you are to see the boobs sagging, how your hair is not bouncing over; how your cuticles are peeling out…"
"At last, I heard you laugh. I have a selfish motive, Nisha in speaking to you'll. I collect details about all professions and live them while I'm cooking or cleaning or putting the younger one to sleep. When I'm making use of you'll shouldn't I give back something? So I call you, because I am confident of making all you stressed out souls laugh for a few minutes. There's no one on the surface of this earth who can hold a tight lip against me, Nisha."
Now I meet her once every month. She's on my list of close friends.
I have stopped judging people.