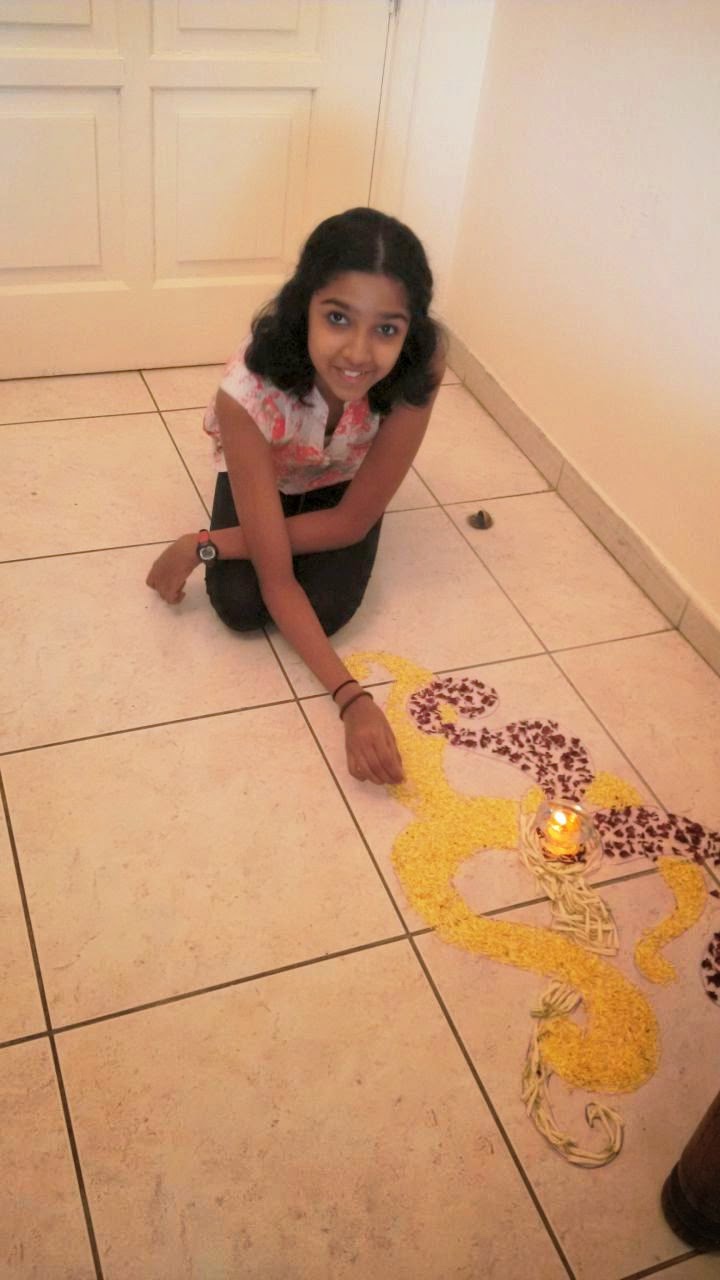 07 Sep

My Onam

I hope Mahabali visited my home today and was happy to see me living a contended life. I had cleaned every corner of the home yesterday and hid the mop and vacuum cleaner lest he is offended by their sight.
My girl decorated the entrance with athapoovu [floral decoration]. Only that our floral decoration has just four colours [traditionally on Onam day the floral carpet should have at least 10 different coloured flowers] flowers picked from my balcony pots.
In fact, I've never seen the fanfare associated with the harvest festival, such as Pullikali [tiger dance], Vallomkalli [boat race], kummaattikali [masked dance form] or even the sales and discounts in shopping centres that rejuvenate the tiny God's own country. And, of course, miss the public holiday.
Being a Hyderabadi and now a Dubaiite, my Onam memories begin with the shopping my parents went on a week earlier to the festival. Mom would make one delicacy per day, so that on the Big Day we had a platter with at least six varieties of savouries to distribute to our neighbhourhood homes, in return for what they gave us on Ugadi and Diwali.

 
On Onam morning, my brother and I woke up to the succulent aroma. Breakfast was bread to save time. Our home seemed more bright that day, literally. The sunrays through the open doors and windows were the same though. Possibly, it was the presence of dad in the kitchen. He did all the chopping and cleaning up. Now, am glad, the ritual, has part-extended after his retirement with him helping mom in doing the dishes daily. Guess, that's why it's said, 'Life just begins after retirement'.
And, yes, we had our family friends over for the Onam sadhya. After the sumptuous meal on banana leaves, we kids got together to watch a movie, dads played cards and moms huddled together talking. They left only late in the evening, and mom would pack them dinner as well. There would still be a lot left in the fridge for the next two days, and my brother and I would throw up a fuss – tired of eating veggies.
Now, my daughter throws up a fuss right on Onam day, when I ask her to leave the leaf clean. And now that she is a 12-year-old, and enjoys school, I have to plead with her to take a day off from school. The savouries are all bought for lack of time and inclination. Friends for Onam sadhya join us at lunch time and return back to work. Those who cannot afford to take a longer lunch break, come for 'Dinner Sadhya'. And then, I am waiting for them to leave at the earliest because I need to go to work at 5.30am next morning.
Dad and daughter all set for the Onam Sadhya
It's a watered-down Onam I have now. I wonder if my daughter would even take the effort to do as much as me when she has a family of her own.
I would love to be part of Onam celebration in Kerala once, especially for my child, to show her what a traditional festival feels like.
Also read: A fun piece on Onam, written earlier http://bit.ly/1ubNXz4