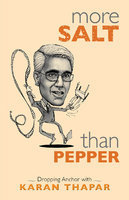 12 Dec

Karan Thapar helps calm my nerves

It amazes, at times even disturbs, me when I discover what struck me from a book. This time Karan Thapar's 'More Salt than Pepper' – a collection of his Sunday Sentiments columns – tugged at my career strings and regurgitated the nausea for numbers.

Figures that involved years, dates, age and mistakes – all came up vengefully!

My first job propelled my parents to the roof-top and above. They made no pretentions about being proud. What more! It was a campus selection. So who was I to rob them of their joy.

That was when I learnt to shelter my fallible confidence behind a measured smile.

I had no choice, whatsoever, because remedial time had long lapsed by then. I had erred two years prior to that D-Day, when I had opted to study Mass Communications. So in the final semester when the job offer came my way, I had the added task of playing a journalist!

Everyone around me believed I was blessed, while I doubted my providence. For the euphoria around dawned on me that it was not naivety but ignorance that made me choose a career in words.

Having little recourse, I chose to settle with the confusion and started my work life. The first hour at the editorial offices of the Institute of Chartered Financial Analyst of India (ICFAI) was enlightening.

When I thought I had finally taken stock of my inert resolve and decided to fake it until I made it, came the bolt I could not duck.

Journalism also involved numbers!

I was expected to write about shares, prices, Sensex and all other excesses of the financial world. If Sensex charts were akin to ECG reports, then company balance sheets like grocery shopping bills.

Math! the creeper I thought I had done, dusted and buried, vengefully resurrected to shadow me
After accompanying a senior to interview the CFO of a leading firm, I quit for the first time, telling myself I'm not an escapist.

After six months of waiting, I landed the second job. Comfortably I trained, learnt and bloomed on the news desk of a English daily. I had warmed up to journalism.

When I moved base to Dubai, little did I realise I had to land a job with 60 days to actually set my base. I grabbed the first offer that came my way – a role of as Customer Service Representative. So what, it's just a logistics firm, I thought.

But my nightmare had only begun. Processing shipping documents to countries across the world, numbers once again snarled at me. 

Opening the first file, I was advised by my team leader, "Multiply the value by 3.67 before printing the final invoice. That's all you need to be careful about. Otherwise the process of entering the transactions will be the same for all types of shipments and destinations."

I followed his instructions to the T.

Since that moment, I dutifully cross-checked every file thrice over [or was it five] to ensure if the decimal after a set of digits was correctly dotted.

I survived a year there, because I had joined them end-March.

At the end of the next financial year, I was summoned to explain why the the company had to pay mind-boggling sums as compensations to firms in France, Qatar, Saudi and Manchester. Twelve months into the job I learnt that the multiplication was a process of coverting dollar amounts into dirhams!

I do not imply the award-winning TV personality Karan Thapar was ignorant and foolish in his early professional life. The reason why he tucked at my heart is because he is unabashedly candid about his raw emotions. From how he hid his trembling nerves at his first job interview to his guilt at not acknowledging the right talent; his ignorance of protocol and the embarrassment thereof; his curiosity to dig into romanticism; his dilemma of defining his marital status; his pain after blowing a cheap kick at his dear friend…the list is long.

What's life without minor foibles!

PS: If you have missed his columns in HT, pick up this book. You can see the real man behind that crop of white hair and hear his real voice from beneath those witty, racy statements.
[Picture Courtesy: Goodreads.com]