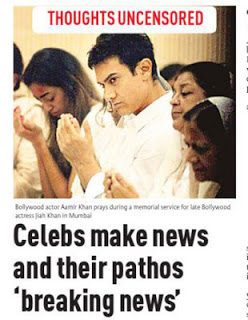 11 Jun

Jiah Khan killed over and over again

So it's a week since Bollywood starlet Jiah Khan's untimely death. And she has been killed several times over since last Monday. Every time a journo decides to write a hypothetical analysis comparing her end to stars who committed suicide in the past, she is mercilessly killed yet again.

So what if the girl's family and friends are just steadying themselves up from the shock of her demise? Media was headlong into cashing in on Jiah Khan's death, gleeful that headlines and eyeballs for the following few days has been taken care of.

Indeed, media should inform. It was a young talent that has gone waste. And if the case warranties investigation and when the same is concluded by competent authorities, then the results should be splashed across.

But no! There was alcohol and anti-depressants put into her system and work pressure and depression measured in her cells. Alright, there can't be smoke without fire. So let the media get the benefit of doubt, but shouldn't they keep the reasons across the table for someone in the know of things to speak.

Agreed only those who 'Break' News can keep up with the heat of competition and survive, but isn't there something called ethics? 'We were the first to report about who found her hanging…'; 'We were the first to report about the suicide note…'; We were the first to write about the boy whom she last spoke to….' It's not an unprecedented trip to Jupiter that warranties exclusive watermarks. PLEASE!

The breaking news phenomenon, unfortunately, is not confined to mainstream media alone. All and sundry today want to break into two-seconds of fame. Legendary singer Manna Dey, who is hospitalized, was mercilessly RIP-ped by Tweeps, before his doctor tweeted his "condition is stable at the moment".

Sad, but true, if disastrous incidents make News, then celebrities' pathos and plights make bigger News. But that's catering to public interest at large. So be it. But we sure can exercise more conscientiousness and stop being ruthless savages. Consider these comparative stories that made headlines riding on Jiah Khan's coffin. Like Jiah Khan… List of celebrities who died young; List of Bollywood dreams gone sour; List of little known wonders who had spoken of depression; List of those made eternal by suicide…PATHETIC!

Cashing-in on someone's death is a form of cannibalism!