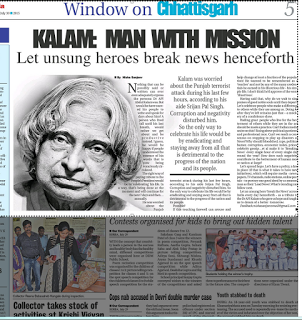 30 Jul

In memory of APJ – let unsung heroes break News henceforth

Appeared in today's Hitavada edition…

Nothing that can be possibly said or written can ever even adequately express the persona Dr APJ Abdul Kalam was. But would he have wanted his people to write and speak for days about him? A person who lived tall until his last breath, would rather we get about and be productive instead. I guess, he would be happy if people understood the essence of his words that is now being voraciously circulated.

The right way of paying tribute to the People's President would be by 'celebrating' his life. In a way, that's being done at the moment and will continue for the next 7 days and then… annually.

He was worried about the Punjab terrorist attack during his last few hours, according to his aide Ssrijan Pal Singh. Corruption and negativity disturbed him. So the only way to celebrate his life would be by eradicating and staying away from all that is detrimental to the progress of the nation and its people.

If this touching farewell can arouse and help change at least a fraction of the population! He wanted to be remembered as a 'teacher' and not by any of the many credentials he earned in his illustrious life – his simple life. I don't think he'd approve of the word 'illustrious'.

Having said that, why do we wait to sing praises of good noble souls until they depart. Let's celebrate people who make a difference to others while they are among us. Doing so after they've left remains just that – a mockery of a condolence show.

Hailing great  people who live for the betterment of others while they are in the act should be made a practice. Can't Indian media unite on this? Rising above political quotients and professional race. Can't we reach a consensus on stopping to play up disasters as News? Why should bloodshed, rape, political banter, corruption, economic index, prices, celebrity gossip…et al make it to opening headlines, every single hour of every single day round the year? How does such negativity contribute to the betterment of human race or nation at large?

Let's spread hope. Let's have a policy, a law in place [if that is what it takes to have new initiatives], which will require media – newspapers, TV channels, radio stations, online portals – to portray one good deed by a common man as their 'Lead News' no matter what's trending in the world.

Let an unsung hero 'break the News' across India every day henceforth – as a tribute to Dr APJ Kalam who gave us hope and taught us to dream of a better tomorrow.