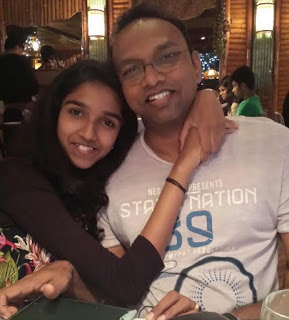 24 Feb

I stifled tears this morning
Best buddies always… the two loves of my life!
There have been several firsts in the four decades I've been around here. Numerous occasions when I clutched my churning tummy, pasted a rehearsed smile and walked ahead.
This morning was one such. "Mama going…Cornflakes on the table…Please wake up on time." I whispered into by baby's ears, kissed her good luck before I left for work at 5.45am.
Mornings have been papa-daughter's playfield since years, as I leave home around 5.30am. Today, as the husband is out of town and I can't afford a day off, I sat my girl down for a chat last night.
"Hello, locking the door is not rocket science. Catching the school bus is not a marathon, either. Is that clear, mama," chided my 14-year-old.
"I understand. But you are doing it for the first time, baby, don't oversleep…you have your exams, and I can't be returning from work to…."
"Chill, mama. I am not a kid," my grandma threw in, hurt at being instructed.
I reset the morning alarm, re-ran the chores over in my head again. That is when I realised how much of my morning tasks the husband silently does without seeking a word of credit. All I do is pack lunch boxes and hop into the car. The kitchen is spic n span when I return at noon; the plants watered, the geezer and lights switched off, the beds made, laundry basket emptied, milk and essentials replenished…most importantly, our girl is in school on time.
As I pulled the covers over, she snuggled in to ask: "What time do you actually leave, like actually leave," before quickly collecting herself, "O am just asking because I've never seen you go. I'll be fine mama, don't you worry, I'm an independent girl you see!"
Was my baby being strong? For me?
As a toddler, when I left her for the first time with a house help, she screeched her lungs out, flaying her arms at me. I vividly remember the moments that day. I plucked her off my bosom and into

the

maid's arms and ran out without turning to take look, banged the door shut and plonked myself on the door mat. I sat outside the door for about 30 minutes, until she stopped crying and fell asleep before I left for work.
There was yet another first before that. The most painful to date. On the 56thday after the Divine gifted us our beautiful baby, I had to leave her with my mom in India and take a flight to Dubai for lack of social support.
My baby's first step, I didn't see.
My baby's first babbly word, I didn't hear.
My baby's first hug, I didn't feel.
My baby's first toothy smile, I didn't see
My baby's first solid food, I didn't feed…
I was marching on to fetch a decent job that would allow our baby to legally stay with us – as a family. Even when well-meaning friends suggested I go back. I was determined not to. If it's hard for a mother, isn't it hard to the new father?
I've had colleagues ask, "If I had really given birth to her?"

 

A friend asked, "Are you a woman?", "How can you stay away from your own child?"
I am. I am a woman, who chokes on words to forgive.
I am a mother, who stifles tears to smile.
I am a wife, who hides fears to let my man do his duties.
I am a woman who is proud to be an inspiration for my girl. I saw her last night – battling her fears to take another new step.
A humble request to all women folks – Stop cribbing. Now! 
You can never be courageous enough. Do only what you 'FEEL' is right.
And please! Never ever seek your worth and value in others!