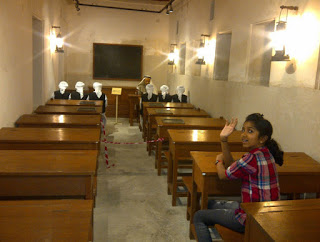 03 Jun

Discovered old Arabia in glitzy Dubai

Apart from falafels and hummus, the only other authentic Arabic flavour I was aware of was the smell of desert dunes. I would say a desert safari was the ultimate adventure if you haven't yet imitated the French Spiderman or thrown yourself into water fastened by a waist loop. Holding a churning tummy and clinging on to dear life, you wouldn't forget the trip for the experience.
Pic Courtesy: Ahmediaguesthouse.com
That's it? Okay, then I bragged about the glitz called Dubai – with its malls and plethora of brands that lured anyone from kiddos for their next gen console and abs-smacking men on lookout for their hot Ts to lasses scouting for that designer lingerie. Commoners can also haggle the world out for steals at the annual shopping fest, I would throw in for convincing measure.
Pic Courtesy: Ahmediaguesthouse.com
Or I shared the next best knowledge – parroted the records crowning the emirates beginning with the latest addition the world's tallest tower – Burj Khalifa.
Pic Courtesy: Ahmediaguesthouse.com
I was surprised to find authentic Arabic hospitality preserved amid the bustling Deira street. The place is layered in culture, beginning with the ambience that serves as therapy to mind and body. The structure about 100 years old is carefully renovated to assure safety while preserving ethnicity. If the traditional courtyard exudes the grandeur of Arabic culture, then amenities and services they offer balance it out for the modern-day holiday makers who love to be luxury-spoilt for choices. Again, for the elite there's the art gallery to splurge on. For foodies a traditional spread with an in-house restaurant. Or just wanna laze around, dunk yourself in the sauna…@ Ahmedia Heritage Guest House in Dubai.
Pic Courtesy: Ahmediaguesthouse.com