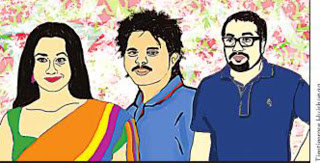 21 May

Bollywood or cricket… we are like this only!

Hope, awe, shock and sighs! This is what two mastermind religions of Indians put us through in the last few days. Mastermind as in that which restricts the mind by ruling our heart!
Graphic Courtesy: The Financial World
Bollywood stars are using the French Riviera and our cricketers the IPL banner to connect with their devotees, while their ardent followers who can kill one another for a drop of a hoot or catch were left wanting for less. Literally!
Bowled over by new fixes, brows and eyes and even heels were raised at the TV screens when the three cricketers were walked into custody in black hoods. Couldn't we have done with less of those shots? Again, with all and sundry voicing their opinion on any platform, [even kids in the park asked to react] it certainly is an overdose of information. But then we are Indians. We are like this only!
Within minutes after the news was out, people were calling for life bans and jail terms for the accused players. Once again questioning the BCCI, connecting the dots to the underworld and zeroing in on the players' families. "So how do you feel at this moment?" asked reporters pressing mikes into their mouths as the cameras zoomed in on their faces. How does it help anyone to know how they feel?
At least let the first 24 hours tide over, if we cannot wait for the investigations to be complete. Let's hear the accused. If found guilty, allow the law to take its course. But no! We are like this only! If we are sad, we howl; if we are happy, we scream and if we are hurt, we will not nurse our bruises in silence.
But silent we do fall like the Mexican wave that dies out to rise again. Match-fixing ritual has been an integral part of this sport since long. BCCI has been cozying at the helm all through. The underworld was also very much under the same world. Only that everything was brushed aside as the wave passed on and those involved preened themselves up and emotional followers wowed.
Consider this. A month back cameras were focused on Sanjay Dutt and his conviction. The actor's every gesture including the twitch of his facial muscle that held his tear drop was recorded and re-played by the hour. Media and anyone who was reminded of the blast aftermath commented on his past, present and future. And then, when the time arrived – when he actually did walk into jail – we let him be. The cameras were busy chasing cricketers and other Bollywood stars at the Cannes.
And what are we interested in at the Cannes? Fashion! One of our men Anurag Kashyap will receive the Knight of The Order of Arts and Letters for his efforts in promoting Indian cinema globally, but he is buried amid the fashionistas.
Apparently carried away by the spirit of the centennial of Indian cinema, our stars that went abroad crossed boundaries, literally. Vidya Balan's anarkali with a veil, or the saree with multi-coloured accessories; Sonam Kapoor's humongous diamond nose ring or the voluminous floral gown; Big B's shimmering suit and that bath-robe of an outfit…isn't that stretching the fashion sense a 100 yards too long to make statements at a global event?
No. Not one bit, because we Indians love bling. When we celebrate we go all out. We are like this only!