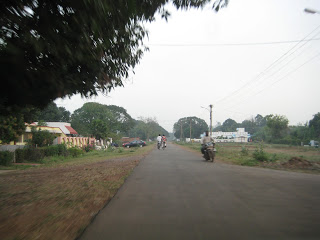 01 Apr

An IT professional's promise to his wife

[

This is a real-life story that unfolded in my hometown]

The cows walked along Sector 7 road as the occasional motorist meandered his way between the holy beings and stray dogs. The only activity on the morning of February 9thas the sun warmed up the sleepy town of Bhilai in Chattisgargh was skittish puppies exercising their energy.
 

Untouched by the bustle of modern-day Indian life, the residents of this Township are at all times relaxed. A sense of calm defines their ethos. The elderly listen to bhajans and watch soaps on TV, the middle-aged work for a living and the youngsters scoot between classrooms from dawn to dusk. In fact the only common obsession among all age groups is their collective passion for education.
Absolutely no sense of urgency on a week day morning
Guess that's the reason why you find more teachers in Bhilai than there are women. Beena, the 30-something wife of Mahesh – an IT professional ­- is also a teacher. A post-graduate with 10 years' experience, she refused promotion a couple of times and prefers teaching kindergartners because she likes to return home along with her kids.
Her dedication to family allows Mahesh to clock 11-hour shifts. Long work hours by young professionals are the only sign that the place is keeping up with the anxiety gnawing the rest of the country, because otherwise the evenings are strictly family time. And weekends are confined to calendar leafs that disappear with mechanical precision. They are particular days, when Bhilai residents do nothing in particular but prepare elaborate meals, eat and visit places of worship, in no particular order.
So when Mahesh had asked Beena to take leave from school on February 9 – a Saturday – for a weekend getaway, it was celebration time for the extended family as well. Beena's parents had collected the kids the previous night to let the couple make preparations.
The sun smiles at early morning commuters
But on Saturday morning, as Beena was readying up, Mahesh received a phone call. He had to rush to office – an hour's drive from home – as an emergency had cropped up.  "What!" Beena was exasperated but not annoyed.
IT professionals across the globe have emergencies at the most intimate of moments!
Mahesh apologised, and his wife slumped down. "So what do I do now? You are going, kids have gone?" She asked maintaining her nerves.
"I'll drop you off at school. Cancel the leave…"
"How can you even suggest that? I told my friends that I'm not in town today and…"
"Why do you have to go telling people details?" He asked, tucking in his shirt, just as a reply without meaning what he said.

                                                                                                                            
"Oh! Blame me."Beena was now angry, but her man was already on a phone call assuring the caller that everything would be taken care of and that he was on his way. His ignorance after instigating her further agitated her.
He picked up the car key, phone glued to his ear, and drove away leaving Beena fuming.
About 20-minutes later, the land phone rang. Beena saw his number and returned to the sofa to continue sulking. When his rings persisted, she picked up the receiver and yelled, "What the hell do you want now?'
"Sorry Beena. I'm really sorry. I just can't help it. Next Saturday, I promise…"
Beena slammed the phone down.
                                                               **********
She hit the bed and woke up only at 2pm.Sleep is an excellent antidote to anger as well. She called to check on Mahesh.
On hearing the engaged ringtone, she set about preparing an elaborate meal. A wifely act of ablution for all inappropriate feelings towards her spouse! She prepared his favourite dishes – laid out a three course meal and tried his number again at 7pm.
Mobile phone switched off.
At 8pm she positioned herself next to the land phone. By 10pm she had already made about a dozen calls to Mahesh – both on his mobile and office number.
She waited the whole night and early Sunday morning called her parents, who rushed to her place. They deliberated on the previous day's happenings. Her mom was inconsolable and her dad lost strength. He called in his best friend, whose family joined them in an hour. Hearing the elderly woman wail, the neighbour on the left came in, followed by the one on the right and the one across the street as well.
By 9am Beena's home seemed a mourning place. Two men set out to check out at Mahesh's office. "We can at least get some details from the security," they reasoned.
One of the elderly neighbours advised to file a police report, which made her mother's tear glands vocal. She started telling stories of how loving and well-behaved her son-in-law was in between sobs and blowing her nose. What curse has befallen on her daughter and she even prophesied her grandchildren's bleak future.
The elderly men sat in the varenda, while the younger lot animatedly spoke about possible reasons for Mahesh's disappearance.
At that point, the stray dog and her puppies scurried away as a car came to a grueling halt over the gravel.
The calm and serene street before the drama unfolded
A worried Mahesh stepped out and hurried in. A couple of elderly men stopped him in his tracks and ran their hands over him as if he were a piece of Fine China.
Sheepishly, he announced, "I had to abandon the assignment half-way and return because I knew Beena would be worried."
The entire room fell eerily silent on his words. Yet the collected well-wishers waited at their spots eager to witness some forbidden scenes. A couples emotional outbursts is always so very pleasing to the public eye!
But Beena sat put on the bed and her mother shut up as if the plug was pulled off her being.
After what seemed more than eon, Mahesh's father-in-law asked calmly, "Why didn't you answer phone calls?"
"I lost my mobile. When I reached office I learnt that I had to go to our head-office in Jabalpur. In the confusion of picking up things, I can't remember where I kept the phone. I only realised when I reached there. And…"
"It's okay, Papa," interrupted Beena, getting up from the bed and thanking and apologising everyone for having troubled them."But there are other means of informing," said the elderly neighbour.
"It's alright uncle. He was busy, I understand. I'm sorry, you had to leave your breakfast and come in. I'll get tea."
"No beti. Take care." He walked out and the others followed suit as if leaving after having witnessed a mock drill for an emergency. Important insights revealed, yet nothing valuable to take home.
When Beena walked into the kitchen, her mother moved towards the son-in-law wiping her nose with her saree pallu: "I understand your work is crucial Mahesh. But do you know how concerned Beena was. You could have just…"
"Mummy, can you please leave him alone." Beena hurried back and pulled Mahesh by the hand and thrust him into the washroom. "Freshen up. I'll fix breakfast."
"We are fools, to be concerned about you. Come let's go," said the old woman turning to her husband. Women will tolerate anything but not being snubbed by their adult-daughters. "Why the hell did we rush on her call…"
"Hold your tongue. Mahesh has had a genuine problem. Don't add to the children's misery," counselled Beena's father, calling out, "So we'll leave Beena. We'll take the kids along, too. You both need some rest."
"What's for breakfast? I'm famished," he tried seeing Beena on the bed.
"Breakfast only after you say these two numbers by heart." She handed him a piece of paper comprising their landline and her mobile phone numbers.
"How many times, I've told you to learn important numbers and not to depend on your damn mobile…I knew…I knew…this would have been the reason…you would have misplace the mobile and…..and would be lost… don't know any number by heart….but…but…do you know what I went through…how could I have just believed…how could I…you…"
It took Mahesh more than an hour to dry her tears…
                                                             **********
PS: Names have been changed because the wife still refuses to make her
husband's ignorance public, though he downloads it on anyone at the least trigger.