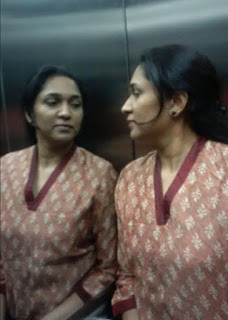 17 Jun

50 shades of Toastmasters

None can shake me like a rug to shed my real self. It's intrinsically woven like the finest silk threads that make a distinguished carpet.

Why am I speaking thus? Was I treated like one? That unique Persian carpet! Or a mat – a doormat? Several people, I have lost count now, have labelled, classified and spoken to me (read: talked me down) – only because I was being ME.

Is it necessary to give tit for tat? Or even rave about one's knowledge at the drop of the other's breath? Being a listener – giving a patient ear to another human – Or being accommodative – understanding another's need – is considered a weakness in today's so-called kickass world.

Mentioning every single incident would call for at least a novella, and covering all spheres of my life would require a wider canvas, so let me mention just a couple of instances from a very small part of my life – Toastmasters (TM). Why Toastmasters? Simply because this is the season of TMs.

 

Give first before you grab! Learn first before you take!

Three years back when I joined Toastmasters club one senior TM, whom I considered one of my mentors until I decided to scrap the title I bestowed upon him – would give me his feedback after every single performance of mine. He dissected my speech, gave me tips, advices and a year later, tired of asking me to smile when speaking, threatened that he would get me debarred if I didn't smile when delivering speeches. He taught me the importance of appearing 'pleasant' in front of an audience – no matter what the speech topic and my state of mind.

Well, recently I happened to evaluate his advanced speech. Truth be told, I was dry nervous. My insides shaking like a leaf in wild monsoon. Called the Divine to see me through and set on the podium. Lo! I won the best evaluator award. He didn't make eye contact. He stopped giving me feedback. Worse, he did not smile when we met during subsequent meetings. 

Toastmasters will help you discover your real self!

In another instance… A senior lady TM caught me in the lift one evening after a meeting and spoke at length of the partiality at the club. She lectured on how the President should be setting an example and how he should follow Toastmaster International rules. [The President had over-ruled and allowed a newcomer who overshot his time to contest for the 'best speaker' award]

A couple of weeks later, a similar situation replayed. But this time, the lady TM herself had overshot her allotted time. Once again the President overruled, and pronounced her eligible to contest. She was all smiles when collecting the best evaluator award!
My tryst with Newsletter
In the most recent incident… playing the Editor of the Newsletter was an eye-opening experience. But one, which I enjoyed to the helm. Being an adhoc event, the 40-page magazine was literally put together in one week. Three weeks before the deadline, I began saying, informing, alerting, messaging, emailing the Chair about the consequences of the committee's continued indecision and constant revisions. "But changes are inevitable," he maintained and assured, "Oye, we are one team." Every other day, he called. He shared with me his hectic schedules, the pressure, the immense responsibility on his shoulders… I heard him out, sympathized and assured to do all I could.
Two days before the event, he called with more revisions. This time, I requested not to make any more changes. It was our last chance of making it to the press. Please don't! I pleaded. He gave me a lengthy explanation as to the importance of incorporating them. 
Did I have a choice? May be, I could have put my foot down and walked out of the project. My conscience nudged at playing a spoilsport at the nth hour. I accommodated.
Well, the following morning –  one day before the event – when the copies were still at the printer, he sounded different. He demanded delivery. I reminded him of the number of times I had told him of having to face this day over the last month, and he shot back: "but you were not strong enough".
"This is me. I don't bully people, nor do I sweet-talk them into doing things for me."
I doubt if he understood, because he replied: "How can you even complain…you did the least work."

It doesn't matter. Because for a few unpleasant ones there are hordes of selfless virtuous souls in the world of Toastmasters. I've once again lost count of the number people who wrote to me, called me and personally shared their opinion on the work I did. 
I've been blessed to have mentors and am fortunate to have made wonderful friends in my three years as a Toastmaster, who see me through even in my personal dilemmas.
Oh, yes, to some Toastmasters is only a networking web. I dislike the breed that join the forum only with the intention of selling themselves. 
Give first before you grab! Or least, learn first before you take!!
For me, Toastmasters is also a forum that will test your morale and morals, a place that will chisel your conscience, and help you discover your real self and give you a choice to colour your life in shades varied.